D2
Introduction
Specification
Dimension
Hight: 41.8cm
Width: 40.5cm
Length: 28.9cm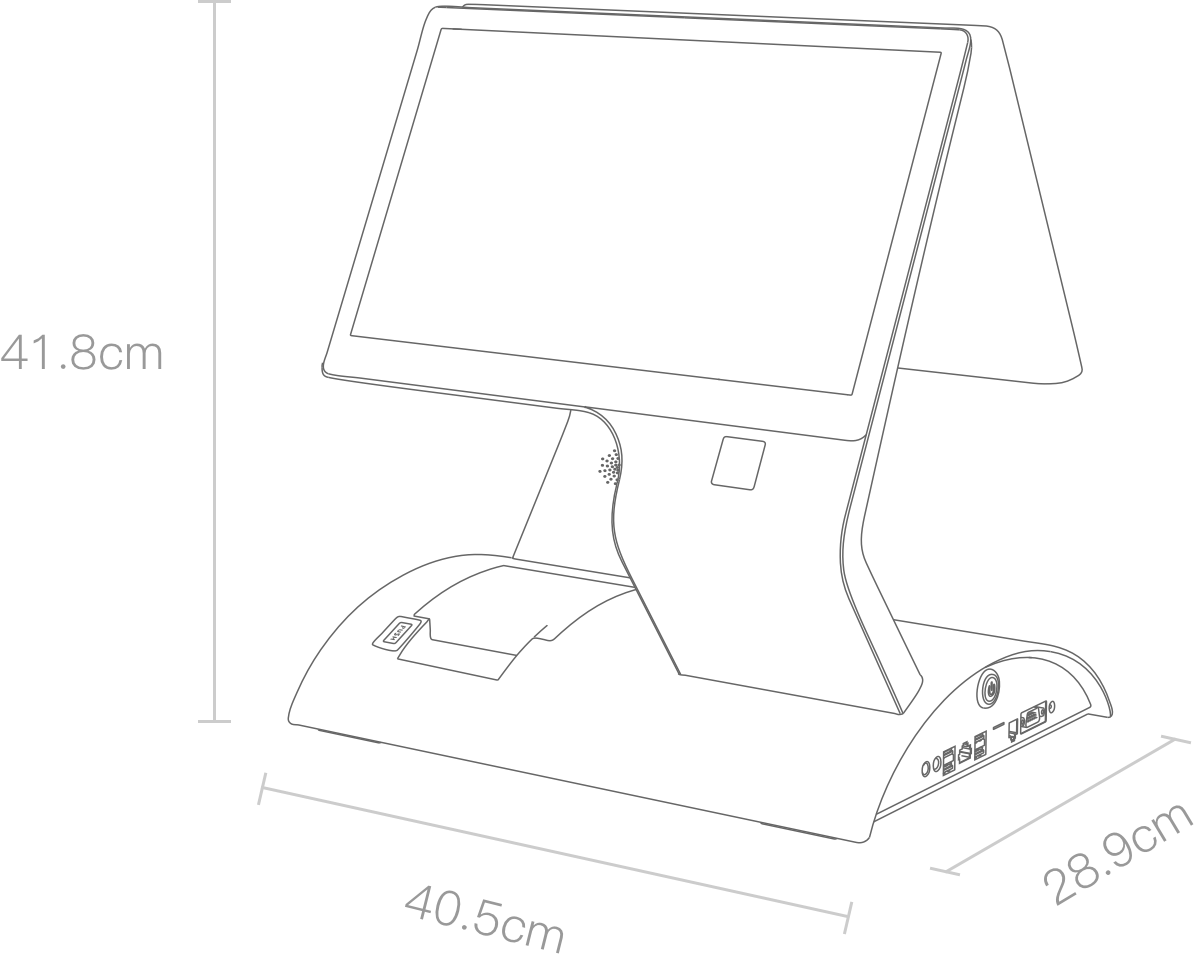 Parameters
O/S
CPU
Memory
Storage
Printer
Windows
Intel ® Bay Trail J1900 4 cores 2GHz
4G DDR3
64G mSATA SSD
58mm thermal printer
Screen
Dimension
Resolution
Material
Touch
15.6inch
1920*1080 FHD
IPS
10 points multiply touch
Network
Ethernet
MINI PCI-E
WI-FI
Interface
USB2.0
USB3.0
RS-232
RJ11
Audio input
Audio output
Ethernet
VGA
2pcs
2pcs
1pc
1pc
1pc
1pc
1pc
1pc
Others
Acrylic billboard
QR payment module
NFC module
Optional
Optional
Optional
Dual Screens
15.6" 1920*1080
4-Core CPU
Intel ® Bay Trail J1900 2GHz
RAM/Storage
4GB+64GB
O/S
Windows
Printer
58mm High Speed Thermal Printer
Smoothly running Windows
system with numerous tests
Stable and smooth running of multiply backstages at the same time, compatible for different external devices.
High resolution screen
with wide visible view angle
15.6-inch 1080P screen with 170° view angle makes sure
the screen image can be visible from
even closing to the horizontal direction.
High performance processor
guarantees the smooth operation
D2 takes use of Intel Celeron J1900 processor with stable running and power consumption, supports multiply tasks working at the same, no response time gap between the command and operation.
High speed SSD with
big storage space
64G mSATA SSD support rapid read and write, data transmission speed is up to 300MB/S. De-vibration design takes longer life-time.
Support various of peripherals
Realize changeable applications through connecting peripherals easily and support abundant interfaces with water proof design.
Well-chosen Materials
The ABS chassis material conforms to RoHS with features of high toughness,
heat resistant and anti-static, which can endure the critical tough
environments such as catering industry.
After melting and injecting of plastic tooling, the ABS material forms
the elegant and smooth appearance.
Support customization
based on the demand